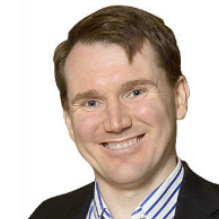 We are delighted to announce that we have selected a new President to lead our AXIS business unit. Over the past three months, we have dedicated a significant amount of time and effort conducting a thorough search. Forty candidates were screened as part of this process. Candidly, it is never an easy decision to hand pick a new business leader. However, we are confident and optimistic with our decision. Our new President, Adam Zimmer, will officially join AXIS on August 15th. Following is a brief overview of Adam's background and the rationale behind our decision.
Adam and his family live in the Waterloo area close to the AXIS office. He is a graduate of University of Waterloo's Computer Engineering program (tier one Canadian school). Prior to finishing his studies in 2001, he co-founded Arius in 1999, a successful Waterloo-based software company that he built over 13 years. Arius developed a front-end customer interface software that was sold to tier one financial brokerage firms including Scotia i-trade and HSBC Direct. The product was designed to help large financial institutions improve the process for on-boarding new clients. Adam and his partner sold the business in 2012 to Doxim, a private equity-backed firm, where he has been working since the time of the sale. Adam was seeking a new leadership opportunity with a mid-sized software company where he could roll up his sleeves and apply many of the lessons he learned from his entrepreneurial experience. He was also seeking to join a company that had a long-term perspective.
Adam brings the core attributes we were seeking. Beyond his directly relevant experience running a complex software business, he is extremely bright, technical, resourceful, energetic, disarming, and possesses a high degree of integrity and a great sense of humor. Having run his own business, he understands the importance of empowering employees, and collaborating closely with clients to develop highly functional and marketable software. He is also familiar with the unique challenges of servicing a small number of larger enterprise customers.
Based on Adam's track record, relevant experience, compatible cultural traits, and compelling references, we are very excited by the prospect of having him join our team in a leadership capacity.
Click here to read the article.
Check out Adam's LinkedIn Profile.